When you're hosting a party, you want it to be memorable. A memorable party has multiple components: the music, the food, the venue, and of course, the drinks. Anybody can open up a case of beer or a handle of vodka and call it a night. Go above and beyond the norm by serving your guests something they've probably never seen before: cocktails that glow in the dark.
There are two ways to make a cocktail glow in the dark. You can serve the drink in a glass that lights up or you can add a glowing ingredient to the drink itself, like tonic water or vitamin B2. For extra glowing goodness, you can even do both. Below are five ways you can add a little bit of neon to your next get together – one that your friends will be talking about long after it's over.
Pretty Pink Jell-O Shots
Choose any color you'd like, but for a bachelorette or lucky lady's birthday, we suggest you go with hot pink. Mix a box of strawberry gelatin into a cup of boiling tonic water and stir it until all the gelatin powder has dissolved. Then, stir in another half cup of cold tonic water and a half cup of chilled vodka. Pour your mixture into Premier Glow's Jello Glow Shot Injectors to add that extra pump to your party.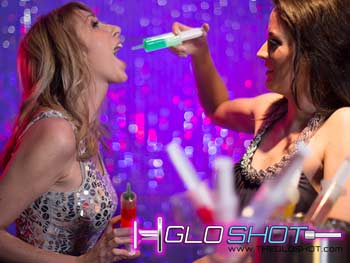 Alien Appletinis
Class it up while keeping it fun by serving otherworldly appletinis in LED Black Tie Martini glasses. For the appletinis, mix one part lemon juice with 1.5 parts vodka, 3/4 part apple liqueur, 3/4 part apple juice, and 1/2 part simple syrup in a shaker with ice cubes and shake it up. For the martini glasses, just snap the two parts together and press the on/off switch to turn on the multi-color flashing. Strain your appletinis into your flashing martini glasses and serve.
Use the Force and Enjoy a Jedi Cocktail
Calling all Star Wars geeks: Premier Glow's Glow Straws are the perfect light sabers for the drinks at your Star Wars celebration. To whip up a Jedi Cocktail, mix one part pineapple rum with one part coconut rum and 1/2 part blue curacao. Top with lemonade and enjoy.
To bring balance to the force at your party, make Dark Side Martinis by mixing 1.5 parts black or light rum with 3/4 part creme de cacao and garnishing with a few drops of black food coloring. Add some black food coloring to a tablespoon or so of sugar to make a garnish for the rims of your dark side martini glasses.
Forget your Troubles with a Mind Eraser
Indulge the coffee lover in you by mixing up this Kahlua-based favorite. Mix equal parts Kahlua, vodka, and tonic water and pour them over ice into an old fashioned or rocks glass. Stir with a tall straw and sip slowly — this cocktail is meant to be savored, not shot.
Find Inspiration from the Northern Lights
The Northern Lights, also known as Aurora Borealis, is a natural light display in the Arctic Circle that occurs when there is a wind disturbance in the magnetosphere. It's also a pastel-colored, glowing update to the traditional gin and tonic that's sure to be a hit at your party.
To make this cocktail, add one part gin to two parts tonic water to a tall glass with ice cubes. Fill the glass the rest of the way with pink lemonade and give the beverage a good stir to mix all elements together. It's pink, it's sweet and citrusy, and it's pretty enough to be the star of your girls' night out.
Remix the Classics with Flashing Ice Cubes and Glasses
Never underestimate the power of classic cocktails. They're classics for a reason — because they're delicious. But there's always room for improvement. If you're thinking about serving the classics at your party, keep them cool without watering them down by using Premier Glow's Flashing Ice Cubes. These waterproof ice cubes are available in four different colors to fit the mood of any party.
For example, it's not a Cinco de Mayo party without margaritas. Make classic margaritas by mixing two parts tequila with one part lime juice and one part triple sec. Shake your ingredients with ice, then pour into Premier Glow's Flashing Margarita Cups. Don't forget the salt rim!
Feel like a Million Bucks by Making a Flashy Millionaire Cocktail
The Millionaire is a drink that's been around since Prohibition. Bring yours into the 21st century by serving it in Premier Glow's Flashing Whiskey Rocks Glasses. To make this expensive-sounding cocktail, mix equal parts sloe gin, apricot brandy, and Jamaican rum with a dash of grenadine and a lime's worth of juice in a cocktail shaker with ice. Give it a good shake, then pour them into your flashing whiskey glasses. Choose the flash mode that suits the mood of your party and get lit.
A Few More Tips to Make your Cocktails Glow
As we said above, there are two ways to make your cocktails light up: by serving them in LED glasses or by adding a mixer that lends itself to luminescence. Pouring your drinks into glowing glassware is simple. Let's talk about mixers. There are two ingredients you can use to make your cocktails glow, quinine and vitamin B2. Quinine is found in tonic water and has a somewhat bitter taste and scent. It's often paired with citrus-flavored liquors like lemon vodka. Vitamin B2 is found in many energy drinks and can be purchased in capsules. The benefit of using B2 capsules is that they have no flavor of their own, allowing you to add a glow to any drink. But don't discount energy drinks — get creative and use their flavors to your advantage to create unique cocktails that keep your guests energized and light up the dance floor.
Above all, have fun!