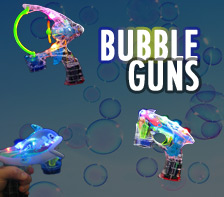 From small bubbles to giant
bubbles

bubble madness is on.

Our selection of bubble blowers utilize led lights to illuminate the endless stream of mesmerizing bubbles that flow from the gun. Choose from uniquely shaped guns including nemos, whales, dinosaurs, characters, big mouths, medium mouths, and our standard bubble gun.
Items 1 to 18 of 18 total
Show per page
Page:

1

Sort by
View as: Grid List