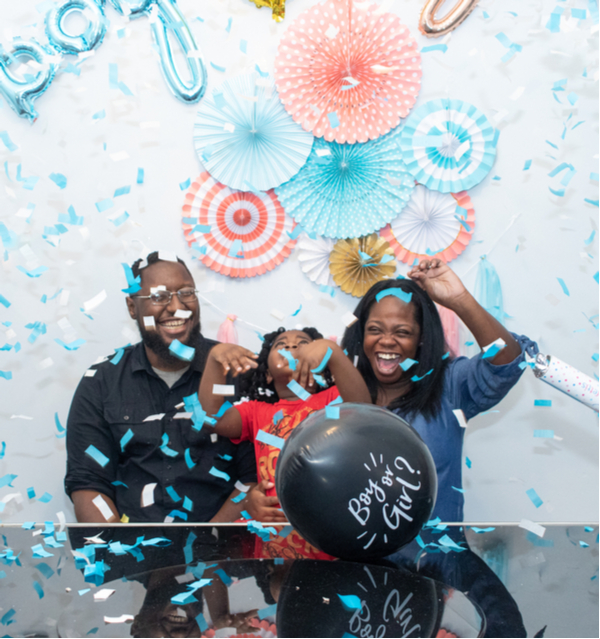 One of the most popular trends these days are gender reveal parties, over-the-top events where the family and friends of parents-to-be learn the sex of the couple's baby. It sounds like a great event with those close to the expecting couple gather and celebrate a very special announcement, right? Yes, but the actual "reveals" are being escalated to new levels of size and potential danger. Over the past few years they have become slightly out of hand, a far cry from what the events originally started as and symbolized.
Before, expecting parents would pop balloons or use a gender reveal confetti cannon to learn the baby's sex, or cut into a cake to reveal a blue or pink center. Well, in todays' social media addicted culture, the reveals are being pushed to the limit, and there have been several reports and documented instances of fires, accidents and even deaths, all resulting from wanting to one-up the other reveals on social media.
Gender Reveal Parties Need to Be Toned Down
You know it's time for a chance when something as innocent as a gender reveal party is the cause of a senseless death.
Pamela Kreimeyer was killed after being struck in the head with shrapnel from an exploding homemade pipe bomb. It was created with the intent to release colored smoke, but instead took an innocent life back in October of this year.
First off, building a homemade pipe bomb is taking it to the extreme, especially when there are gender reveal smoke cannons available for purchase, that are designed specifically for this occasion and completely safe.
Sadly, the majority of reported tragedies all stem from the desire to make an impact on social media. Couples want bigger explosions and over-the-top effects in an attempt to get more likes and shares -- that desire to 'go viral' is causing people to make poor decisions.
Aside from deaths, gender reveal parties are also causing environmental harm, with several reports of wildfires and brushfires hitting news outlets. Back in 2017, a gender reveal party in Arizona caused a brush fire that torched close to 47,000 acres according to CNN. The fire, which was later referred to as the Sawmill Fire caused more than $8 million-dollars in damage.
Remember Why Gender Reveal Parties Became a Thing in the First Place
Are we saying gender reveal parties need to come to an end? Of course not. Actually, it's the complete opposite -- we just need to be remembered of why they became a 'thing' in the first place.
When a couple is ready to announce the sex of their baby they want to let all of their family and friends know. What better way than to gather everyone together for an announcement, and add a little flair, like a gender reveal smoke cannon to make the announcement, while also creating a nice photo-opportunity to capture the moment.
While social media has contributed to some of the outrageous gender reveal events, it also presents an opportunity to share the event with those family and friends that couldn't attend in person. After all, that is what social media was originally intended to do -- connect friends and family.
Having a gender reveal party is a great way to bond with those closest to you, share a very special time in your life with those you love, and document the entire experience, so one day the little one can see how he or she was announced to the world.
Simply put, the focus needs to be on the actual event and keeping it fun and safe for all in attendance -- not the potential social media attention. Likes, shares and comments from random strangers on the internet shouldn't influencer the planning of a gender reveal party.
How to Tone Gender Reveal Parties Down & Still Make Them Fun
There are ways to keep gender reveal parties safe while still making them fun for everyone in attendance, as well as those watching on social media. Let's look at a few examples of safe gender reveal options that provide fun and excitement without the safety risk.
Gender Reveal Cake
The cake reveal is one of the most traditional and popular gender reveals, with the couple slicing into a cake with a neutral color frosting and revealing the inside color of either baby blue or pink.
This one works for several reasons. First, it's great for photographs and it's something that can be done inside. If the weather isn't ideal for an outside event or there simply isn't enough space, a gender reveal cake can be done in the smallest of settings.
Also, if a little social media attention is desired, the couple can proceed to smash the cake in each other's face after the reveal. Social media aside, this often happens in a fun playful way and just adds to the experience.
Gender Reveal Confetti Cannon
Want to add a little 'bang' to your gender reveal party? Get an assortment of gender reveal confetti cannons and make your reveal exciting for everyone. They offer the visual spectacle that many desire, but without the risk of injury or fire.
A gender reveal confetti cannon can also be used inside, as the mess in minimal and easy to sweep up. So, if weather restricts you or you are simply planning and indoor party, this can give you the over-the-top reveal desired without any worries.
There are several different sized gender reveal confetti cannons available. Typically the couple will each fire off large confetti cannons, and then once their reveal is done other family members and friends are given smaller ones to join in the celebration.
Gender Reveal Smoke Cannon
Gender reveal smoke cannons have become increasingly popular over recent years because of the 'wow' factor they provide. Now, these are strictly for outdoor use as it would be very dangerous to set them off inside and fill the house with smoke.
For outdoor parties, a gender reveal smoke cannon provides the excitement and anticipation that makes for a great event. Once lit, the couple and all attendees wait with anticipation for the cannon to start shooting colored smoke.
If you are looking to get some great video or still photos, setting up a few gender reveal smoke cannons can create a nice blue or pink smoke-filled background for some couple shots as well as group shots of family and friends.
Gender Reveal Colored Egg
Many of the gender reveal party tragedies were a result of wanting to do something over-the-top, and there are ways to accomplish that without putting anyone in danger. The colored egg is one reveal that is both exciting and has that element of viral-potential.
You start with a dozen eggs, and poke a small toothpick size hole in 11 of the eggs, draining the contents of the egg. The egg not drained is painted blue or pink -- the sex of the baby. The other eggs, once drained are also painted. In the end you have 6 blue eggs and 6 pink eggs.
The couple then takes turns smashing the eggs on their forehead (or each other's forehead) until the egg representing the baby's sex explodes. This is a fun reveal for those in attendance because they are anticipating what is going to happen.
It also makes for a great social media post, because people will watch just to witness the egg being smashed, creating a mess mixed with happy emotions. This one can be done both inside and outside, and the small mess it creates is well worth the reactions.